We were pleased to host our first guests.
April 9, 2014 - 6:30 AM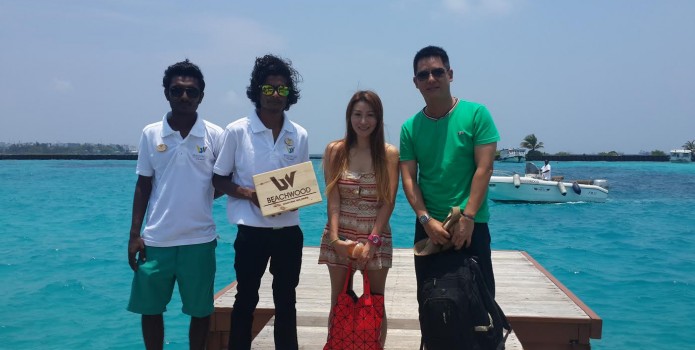 On behalf of our staff and Management at BeachWood Hotel, we were pleased to host our first guests, Mr George and Ms. Ivy who enjoyed their stay with us.We very much appreciate their recognition of our fine hotel and for the many kind words they expressed to our staff during their stay of which excerpts were as follows.
Arrived at Maldives airport feel special with warm welcome as BW boss has personally came down to the airport to meet us. We're so surprise that we're the first hotel guests that r checking in. is a brand new hotel with nice n good experience well trained staff's. The boss has personally offer us hotel speedboat without any surcharge directly to d island which we're not informed during the booking. Feeling great as we're treated like special VIP when we reached d island with all d staffs came over to d jetty n fetch us with warm welcome n dance not forgetting flowers, warm towel and coconuts drinks. Wud definitely highly recommend to stay at this hotel n island to experience d local n beautiful beach.

Thnx 4 d special treatment. BW hotel has very gud services n it's beyond 5 star's resorts standard with beautiful brand new rooms and swimming pool please drop by to experience the hospitality personality
-Ivy.
We look forward to seeing you again hopefully, in the near future. Please let us know if there is anything you need on your next visit to make your visit to our hotel, Beachwood Hotel, Maafushi as memorable as possible.